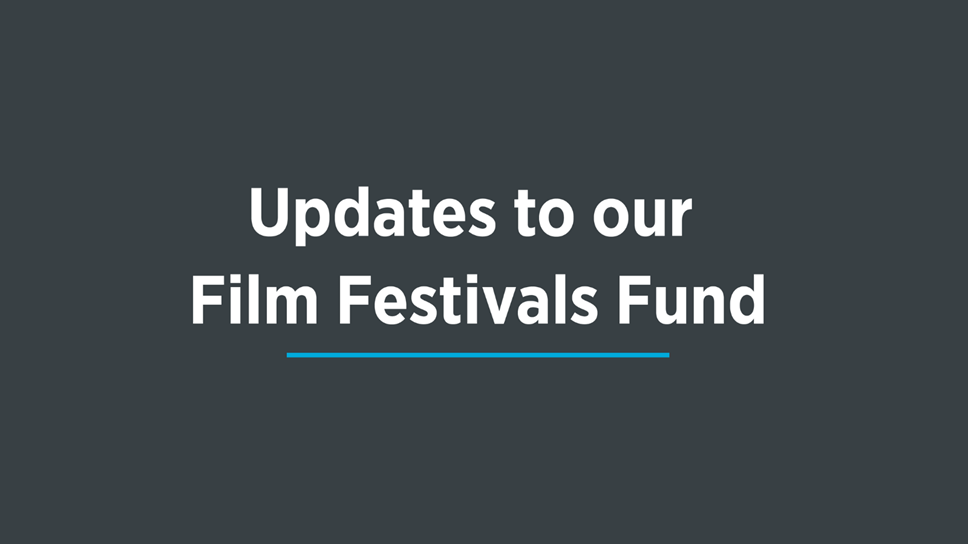 Support for Film Festivals to Take Their Programmes Digital
Screen Scotland has today announced changes to its Film Festivals Fund, which now enables film festivals across Scotland to develop and deliver festival screenings and activity which is in part or wholly digital, in response to COVID-19.
The changes are designed to help festivals to continue to reach audiences during lockdown while social distancing measures continue to impact their viability.
The Fund will now support organisers to include costs such as hosting activity on online platforms and associated delivery costs in their application.
The updated Fund also provides additional support for accessibility costs such as audio description, captioning and BSL interpretation.
Sambrooke Scott, Head of Audience Development at Screen Scotland said: "We have been working closely with the sector and listening to film festivals about how we can best use our funding to enable them to adapt to the current situation and this change in our guidance is just one of the ways we have responded. Covid-19 has forced film festivals to think of imaginative and innovative ways of reaching their audiences digitally and these changes will enable others to do the same, giving us all a boost during lockdown."
This is a rolling fund with no deadline. Full guidance and application form can be accessed here: https://www.screen.scot/funding-and-support/screen-scotland-funding/festivals
Film festivals already supported through the £600,000 fund include: Africa in Motion, Cromarty Film Festival and Take One Action.
Contact Information
Eilidh Walker
0131 523 0019
07545 402 064
Notes to editors
Note to editors:
Latest guidance from the Scottish Government can be found here: https://www.gov.scot/publications/coronavirus-covid-19-framework-decision-making-scotlands-route-map-through-out-crisis-phase-2-update/
The UK Cinema Association last week published reopening guidance for drive-in cinemas which can be found here: https://www.cinemauk.org.uk/2020/06/uk-cinema-association-publishes-safeguarding-guidelines-for-drive-in-cinemas/
Screen Scotland is the dedicated partnership for screen in Scotland. Sitting within Creative Scotland, it is a partnership with Scottish Enterprise, Highlands and Islands Enterprise, Skills Development Scotland, Scottish Funding Council, working in close collaboration with the sector to ensure its success. With funding from Scottish Government and The National Lottery, Screen Scotland is driving the cultural, social and economic development of all aspects of the sector in Scotland, through enhanced funding, services and support. For further information please visit: screen.scot, follow us on twitter, @screenscots and instagram @screenscots
Media Contacts:
Eilidh Walker
Media Relations and PR Officer- Screen
M: +447545 402 064
Eilidh.Walker@creativescotland.com