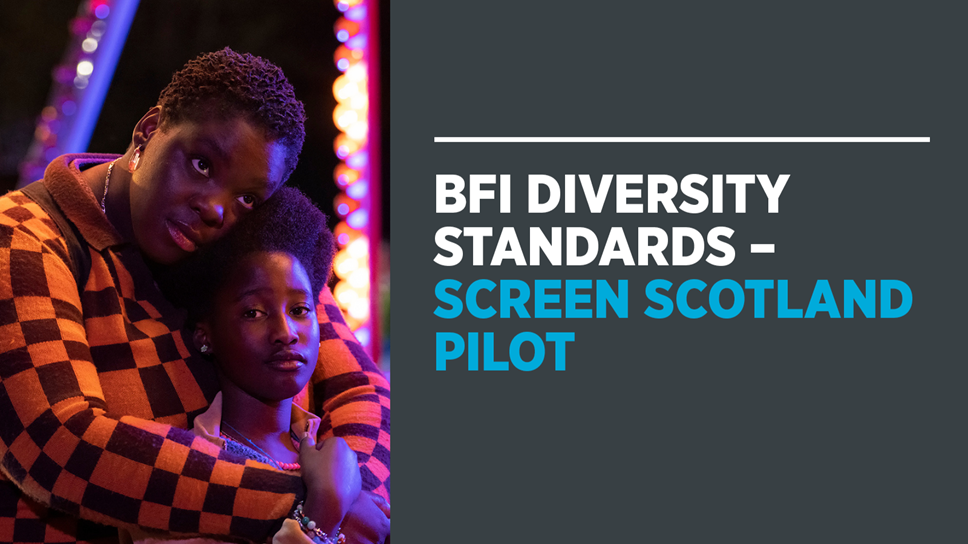 Screen Scotland introduces new diversity requirements adopting the BFI Diversity Standards
New measures to encourage a more representative and inclusive Scottish film industry are being introduced from 1 April 2022, as Screen Scotland adopts the BFI Diversity Standards.
Designed in consultation with the film and TV sector, the BFI Diversity Standards – Screen Scotland will be piloted on all projects applying for Screen Scotland's Film Development and Production Fund and its Film Festivals Fund during 2022. Following the pilot, the ambition is to see further roll out of the Standards across the full range of Screen Scotland's film and TV funds from 2023, ensuring more inclusive practices and increased opportunities for people from all walks of life, to make and experience film.
Screen Scotland's Executive Director, Isabel Davis said:
"A truly representative screen sector reflects the whole of society, through films we fund, filmmakers, actors and crews who make them and audiences who watch them.
"Designed to guide both our own activities and the projects that we fund, the BFI Diversity Standards focus on disability, gender, race, age and sexual orientation (as they pertain to the Equality Act 2010) and also seek to ensure that people from lower socio-economic groups are better represented.
"Embedding the principles of equal opportunity across all decision making will help bring about real and lasting change needed to ensure true representation and make the screen industry in Scotland a more inclusive and attractive place to work."
Jennifer Smith, Head of Inclusion at the BFI, said: "Having Screen Scotland adopt the Standards is a really important milestone and it has been great to work with them to get to this point. The Standards provide a baseline framework to instigate the sometimes difficult conversations around creative decisions and hiring practices which can make real differences. I look forward to seeing the outcomes of the pilot and where we can go from there."
BFI and Screen Scotland aim to support filmmaker and festivals in adopting the BFI Diversity Standards. Initial information sessions are taking place as part of the industry programme at Glasgow Film Festival.
This support is underpinned by the development of Screen Scotland's skills and talent development strategies which aim to open up opportunities to everyone across Scotland, regardless of their background or where they live, to ensure the Scottish industry has a strong and representative pipeline of talent to work on or lead projects.
Contact Information
Eilidh Walker
0131 523 0019
07545 402 064
Notes to editors
1.Full details and BFI Diversity Standards - Screen Scotland Pilot criteria are available on the Screen Scotland website, here: www.screen.scot/bfi-diversity-standards-screen-scotland
2.During the pilot year the BFI Diversity Standards - Screen Scotland will be a part of the criteria for applications to Screen Scotland's Film Development and Production Fund and Film Festivals Fund.
3.Following this initial pilot phase, Screen Scotland aims to implement the BFI Diversity Standards across other funds from 2023.
Further information and assistance relating to the BFI Diversity Standards-Screen Scotland Pilot can be accessed through the BFI by emailing: diversitystandards@bfi.org.uk or calling: 0207 173 3273.
Other enquiries about Screen Scotland's Film Production and Development Fund or Film Festivals Fund or other general support and information can be accessed via our contact form on our website or by sending us a tweet @screenscots. For those who prefer a call back, give us your number and we will come back you as soon as possible.
For Deaf BSL users, access our services head to contactscotland-bsl.org/deaf-bsl-users for more information.
Screen Scotland is driving the cultural, social and economic development of all aspects of the sector in Scotland through enhanced funding, services and support and backing from Scottish Government and The National Lottery. Screen Scotland sits within Creative Scotland and works in partnership with Scottish Enterprise, Highlands and Islands Enterprise, Skills Development Scotland, Scottish Funding Council, working in close collaboration with the sector to ensure its success. screen.scot / Twitter / Instagram.
About the BFI Diversity Standards
The BFI Diversity Standards are an industry wide initiative for adoption by the film and television sector. They have already been embraced by BAFTA, Film4, BBC Films, BIFA (British Independent Film Awards), Screen Scotland and Paramount Studios. The Standards focus on disability, gender, race, age and sexual orientation (as they pertain to the Equality Act 2010) and also seek to ensure that people from socio-economic disadvantaged backgrounds and those from outside London and the South East are better represented. In addition, the BFI Diversity Standards guide both its own activities and the projects it funds.
www.bfi.org.uk/diversitystandards
The BFI is a cultural charity, a National Lottery distributor, and the UK's lead organisation for film and the moving image.
Its mission is:
To support creativity and actively seek out the next generation of UK storytellers
To grow and care for the BFI National Archive, the world's largest film and television archive
To offer the widest range of UK and international moving image culture through our programmes and festivals - delivered online and in venue
To use our knowledge to educate and deepen public appreciation and understanding
To work with Government and industry to ensure the continued growth of the UK's screen industries
Founded in 1933, the BFI is a registered charity governed by Royal Charter.
The BFI Board of Governors is chaired by Tim Richards.
Media Contact:
Eilidh Walker
Media Relations and PR Officer- Screen
M: +447545 402 064
Eilidh.Walker@creativescotland.com
Funding Enquiries: