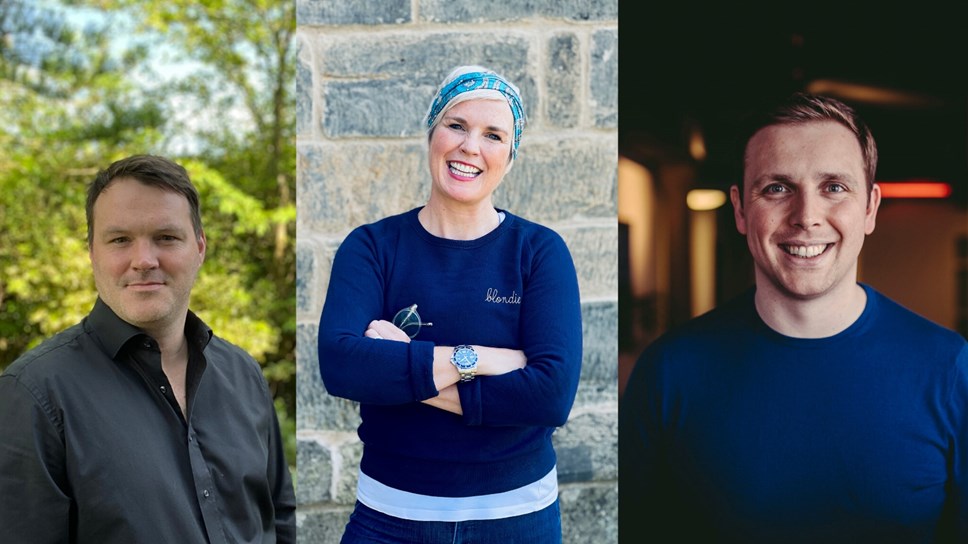 Screen Scotland appoints film and TV professionals to head up scripted, unscripted and production teams
Today, Screen Scotland has announced the appointment of respected film and television makers to three new strategic roles.
Experienced Executive Producer, who has led the BBC's River City for the last four years, Kieran Hannigan has been appointed as Screen Scotland's new Head of Scripted.
In this role, Hannigan will develop Screen Scotland's work with writers, producers, broadcasters and other development partners to support Scotland's scripted talent across film and TV. Hannigan and his team will bolster the editorial support available to Scottish talent at the development and production stage, helping new voices to flourish and enabling talent at every stage.
Hannigan commented: "I am completely thrilled to be joining the team at a moment when we have so many brilliantly talented creatives as well as demand for stories from Scotland. Seizing this opportunity to establish sustainable and enduring success across film and TV has to be our goal and I can't wait to start working with producers, writers and directors on making that happen."
Award-winning Director, and Series Producer, Dani Carlaw has been appointed Screen Scotland's Head of Unscripted.
Developing a strategy to support unscripted film and TV, Carlaw will be responsible for early stage talent development, supporting producers with funding of both individual programmes and slates of projects at the development and production stage, directly at Screen Scotland and in collaboration with broadcasters and other strategic partners.
Commenting, Carlaw said: "It is a privilege to support the unscripted sector as part of the committed and experienced team at Screen Scotland. Now more than ever this sector needs support as it finds ways to thrive in such challenging times.
"As a career freelancer, I forged many fantastic relationships with Scotland's dynamic and diverse talent base and production companies, as well as the in-house teams at PSBs, multi-channels and platforms, here, across the UK, and beyond. I look forward to building on these relationships, and forging new ones, as I work collaboratively with Screen Scotland and our partners to ensure the unscripted Film and TV sector flourishes."
Steven Little, former Head of Production at leading Scottish film and television production company, Blazing Griffin, will take up the role of Screen Scotland's Head of Production. Steven will oversee productions funded by Screen Scotland, playing a supportive and enabling role to enhance the number, quality and diversity of film and television productions from Scotland.
Little commented: "In these unprecedented times, it is more important than ever that we work together to build upon the significant contribution that Screen Scotland has already made to the continuing success of our industry.
"I am delighted to be joining Screen Scotland and looking forward to using my varied experience to support independent production companies, nurture new talent and maximise opportunities on a domestic and international level."
Today's announcement consolidates plans to enhance Screen Scotland's leadership team. Those announced today join Brodie Pringle, Head of Screen Commission, Louise Acheson, Head of Business and Market Development, Sambrooke Scott, Head of Audience Development and Scott Donaldson, Head of Film Education, working to Isabel Davis (Executive Director) and David Smith (Director). Also recently joining in a newly created role is Alison Smith, Equalities, Diversity & Inclusion Officer, to support Screen Scotland and its funded partners to strengthen EDI practice across the sector.
Screen Scotland's Executive Director, Isabel Davis said: "We're so excited to have Kieran, Dani and Steven join our brilliant team. Each brings fresh creative thinking, coalface experience, and a deep commitment to generating a strong body of work from Scotland. At a time of deep challenge for the sector, it's all the more important that we enable Scotland to make its best work and compete on a global level."
Contact Information
Eilidh Walker
0131 523 0019
07545 402 064
Notes to editors
Notes to Editors:
1.Dani Carlaw will begin in post on Monday 6 July followed by Kieran Hannigan and Steven Little on Monday 3 August 2020.
2. Biographies
Kieran Hannigan has a strong track record across production and script editing. Kieran has spent the last four years as Executive Producer at River City, following two years as producer on the Scottish drama.
Kieran also previously worked as Script Editor at BBC Scotland Drama, where he worked across their drama slate.
Having started out as Production Trainee with Scottish Screen, Kieran worked in production before graduating with an MA in Screenwriting from Edinburgh Napier University in 2011. Following this, he gained experience as a Script Editor on River City and a trainee producer on Casualty and River City.
Dani Carlaw is an experienced Series Producer having worked with some of Scotland's most exciting production companies including Red Sky Productions, where Dani was Senior Development Executive and worked across their development slate, STV Productions and Raise the Roof, as well as BBC Studios for BBC One and Two, Dani's credits include; Laid Bare (BBC Scotland), Island Medics (BBC One), Money for Nothing (BBC One) and Trust Me I'm A Doctor (BBC Two), Kirstie's Vintage Home (Channel 4) and BAFTA Scotland and Grierson Award-winning BBC 4 Documentary, Afterlife: The Strange Science of Decay.
Dani graduated from the University of Stirling's BA Film + Media Studies programme and also took part in TRC Media's Series Producer Programme.
As Head of Production at Glasgow-based production company Blazing Griffin for the past three years, Steven Little has produced the BAFTA Scotland nominated Anna and the Apocalypse, the first feature film for the company, Blazing Griffin's first BBC commission, Who Are the Flat Earthers, a documentary for the BBC Scotland channel and an outside broadcast and feature documentary, Runrig: The Years We Shared about legendary Scottish trad rock band, Runrig.
Following experience in both documentary and feature films with production companies including Sigma Films, Solus Productions and The Comedy Unit and credits including Tommy's Honour, Waterloo Road and Scot Squad, Steven also produced his own feature film, Matriarch in 2018.
3. Screen Scotland is the dedicated partnership for screen in Scotland. Sitting within Creative Scotland, it is a partnership with Scottish Enterprise, Highlands and Islands Enterprise, Skills Development Scotland, Scottish Funding Council, working in close collaboration with the sector to ensure its success. With funding from Scottish Government and The National Lottery, Screen Scotland is driving the cultural, social and economic development of all aspects of the sector in Scotland, through enhanced funding, services and support. For further information please visit: scot, and follow @screenscots
Media Contact:
Eilidh Walker
Media Relations and PR Officer- Screen
M: 00 44 (0)7545 402 064
Eilidh.Walker@creativescotland.com