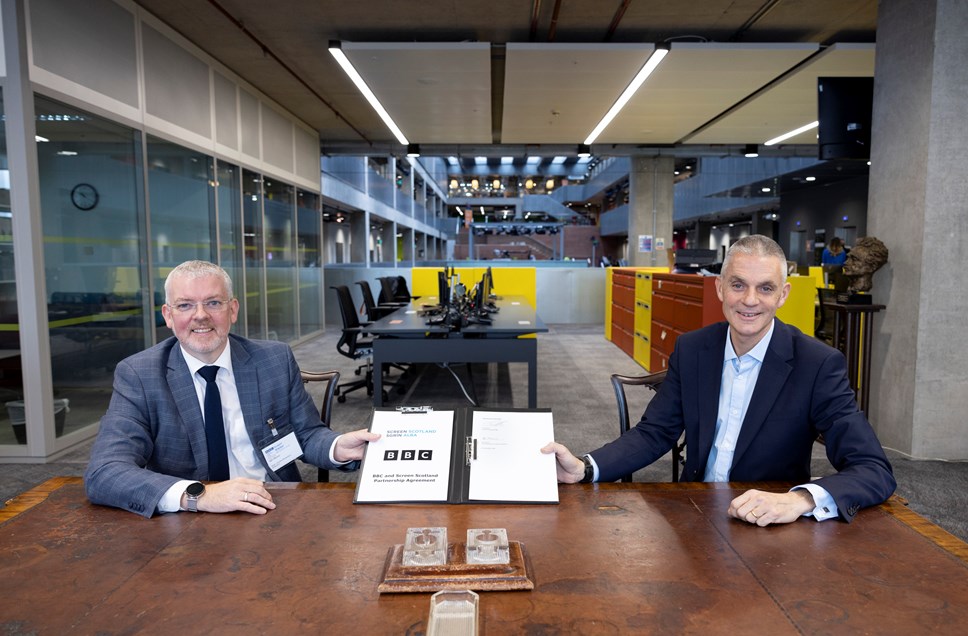 Screen Scotland and the BBC renew commitment to put Scotland's television on world stage
Scotland's production sector has received a £3m investment boost from Screen Scotland and the BBC.
Under an existing partnership the BBC and Screen Scotland have jointly invested in a number of hit productions over the last few years including popular drama Guilt, Killing Escobar, The Hermit of Treig and One Night at the Museum, while a series of writing and skills initiatives for film and television have also been supported.
Now that partnership has been extended for a further three years with the aim of bringing more audience favourites to screens from Scotland.
Renewal of the collaboration agreement recommits both organisations to work together across the next three years to strengthen Scotland's production sector and to improve the on-air representation and portrayal of Scotland across the BBC network television services.
The renewed Memorandum of Understanding (MOU), will see the BBC and Screen Scotland jointly invest £3million to support the production of new TV drama, entertainment, scripted comedy, documentary and factual formats on the BBC's network television services from Scotland and to develop the skills and talent required to devise, develop and produce those new shows.
Signed by BBC Director General Tim Davie and Creative Scotland's Chief Executive Iain Munro, the three-year agreement identifies how the two parties will continue to work together on a strategic level to achieve added value from the funding provided to Screen Scotland from the Scottish Government, from the BBC's continuing investment in BBC Scotland, the BBC's ongoing commitment to invest at least 8% of network TV spend in Scotland, and from the BBC's Across the UK Strategy, which will see the BBC spending an extra £700m cumulatively across the UK by 2027/28.
Tim Davie, BBC Director-General said: "Working in partnership over the last few years with Screen Scotland has helped us produce some great new drama, comedies and documentaries for our audiences while also enhancing the skills base. On top of this week's Kelvin Hall TV studio announcement, it's further evidence of the BBC's desire to invest and produce more programmes across all parts of the UK. I am pleased that the new MOU sets ambitious goals to create even more outstanding programmes and develop the creative industries."
Iain Munro, CEO at Creative said: "The first MOU between Screen Scotland and the BBC has seen us work together to deliver new talent development initiatives, cement strong relationships between the BBC's commissioning teams and producers in Scotland, and launch new hit shows that reflect and represent modern Scotland across the BBC. This new, extended three year collaboration agreement will build on our strong relationship, focus on developing more new work from Scotland for all of the BBC's channels and platforms, driving inclusive training opportunities and showcasing Scotland's writing, directing and performing talent across the BBC and beyond."
A strategic focus for the period of the agreement will be to strengthen the volume of content on the BBC from Scotland-based production companies. There will be a particular focus under this MOU on content from Scotland-based talent on the BBC's network television channels and platforms.
Examples of the work already delivered through the initial two year 2019/2020 MOU between Screen Scotland and the BBC include:
The Scottish Drama Writers' Programme 2021 saw Screen Scotland, BBC Drama Commissioning and BBC Writersroom work with Scotland-based writers and independent production companies (including Two Rivers Media, STV Studios, TOD Productions and Synchronicity Films) to develop new network drama ideas. The year-long initiative runs through to early 2022 with the aim of the writer's series or serials then being taken into full development by the BBC.
The BBC Youth Digital Drama Pilot Programme, which resulted in a series commission for FLOAT from Glasgow-based producers Black Camel. Written by Scottish playwright Stef Smith, the series arrived on BBC iPlayer in August 2021.
The BBC Scotland Comedy Pilot project saw three projects developed and produced as pilots, resulting in a series commission for The Scotts, created by and starring Burniston's Robert Florence and Iain Connell, and, in 2021, Beep from Moray-based Happy Tramp North and writer, Bryce Hart.
The Screen Scotland BBC3 & BBC Scotland Factual entertainment Initiative saw independent production companies working with commissioners across BBC Scotland and BBC Three to develop original series for broadcast on both channels. The first commission from this initiative, Mentorn Scotland's Flight Club following the lives of cabin crew working for Logan Air, will air on BBC Three next year while Glasgow producer Beezr also made a pilot, Wild Weekends.
Across the production of Series 6 and 7 of ITV Studio's BBC hit crime drama Shetland, Screen Scotland has worked with the BBC to support new entrant placements, providing vital training opportunities and access routes for underrepresented groups in Scotland.
Most recently the BBC, Screen Scotland, Glasgow City Council and Channel 4 have jointly funded TRC Media's FormatLab, designed to develop the next wave of entertainment development talent from Scotland. FormatLab is, in part, a response to the opening of the Kelvin Hall television studio, expected in 2022.
During the initial MOU, the BBC and Screen Scotland have also jointly invested in the first two series of Happy Tramp North's Guilt, Two River's award winning feature documentary Killing Escobar, director Lizzie MacKenzie's The Hermit of Treig and One Night at the Museum, from Glasgow's award winning Firecrest Films.
The announcement comes alongside the news that BBC Studioworks will be the operator of the new television studio space within Glasgow's Kelvin Hall developed by Glasgow City Council in collaboration with Screen Scotland, and with funding from the Scottish Government. BBC Studioworks selected as operator of Kelvin Hall TV studio in Glasgow - BBC Studioworks.
Contact Information
Eilidh Walker
0131 523 0019
07545 402 064
Notes to editors
Background:
MOU Document: https://www.screen.scot/funding-and-support/research/bbc-and-screen-scotland-memorandum-of-understanding
This is a joint media release issued by the BBC and Screen Scotland.
For enquiries to BBC Scotland please contact Roy Templeton roy.templeton@bbc.co.uk
For enquiries to Screen Scotland please contact:
Eilidh Walker
Media Relations and PR Officer- Screen
T: 0131 523 0019
M: 07545 402 064
Eilidh.Walker@creativescotland.com
Screen Scotland is driving the cultural, social and economic development of all aspects of the sector in Scotland through enhanced funding, services and support and backing from Scottish Government and The National Lottery. Screen Scotland sits within Creative Scotland and works in partnership with Scottish Enterprise, Highlands and Islands Enterprise, Skills Development Scotland, Scottish Funding Council, working in close collaboration with the sector to ensure its success. screen.scot / Twitter / Instagram.