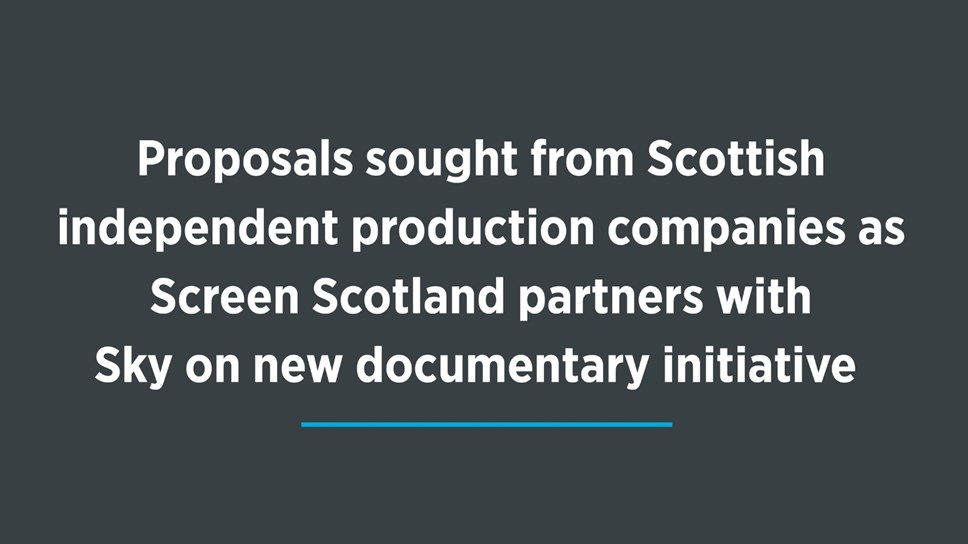 Proposals sought from Scottish independent production companies as Screen Scotland partners with Sky on new documentary initiative
Today (Friday 13 November) Screen Scotland and Sky have announced a new strategic development initiative to broaden Sky's supplier base in Scotland for documentary series and films.
Sky Documentaries and Screen Scotland, with support from The National Lottery, will contribute £50,000 each towards the joint initiative to increase Scottish content on the network.
Sky is seeking proposals for narrative-led feature documentaries and limited series which tell a compelling story with a strong creative vision. These can include ideas covering a vast range of subjects – crime, scandal, politics, biography, sport, definitive takes on newsworthy events, stranger-than-fiction stories – but not limited to these. Proposals are not currently sought for current affairs, presenter-led or constructed documentaries. Diversity is strongly encouraged as part of any proposal, both in front and behind the camera.
Submissions are open until Monday 21 December 2020, 6pm with shortlisting to follow in January. A minimum of six Scottish production companies will be invited to pitch development ideas to Sky Commissioning Executives with a minimum of four of these companies progressing to a period of paid development. Final funding award amounts will be project dependent.
Interested production companies can find more information here: https://www.screen.scot/sky-documentaries
Glasgow-based training provider TRC will host a Creative Zoom with Sky's Director of Documentaries & Factual, Poppy Dixon, and Screen Scotland's Head of Unscripted, Dani Carlaw, to discuss the new initiative and answer questions directly from Scottish indies. The event will take place online on Friday 27 November at 12pm. Companies can register their interest in attending here: https://www.surveymonkey.co.uk/r/L5XC7CS
Dani Carlaw, Head of Unscripted at Screen Scotland said: "This is a tremendous joint initiative to support Scottish production companies in honing their creativity, for a potential new market opportunity. Opening up relationships with Poppy and her team and bringing fresh stories to Sky is very exciting, and we look forward to seeing the projects and ideas that come from Scotland's growing documentary talent base."
Poppy Dixon, Director of Documentaries & Factual at Sky said: "Sky Documentaries is dedicated to championing premium documentary storytelling. I am excited to support Scotland-based talent through this joint development fund and to build on our relationships with the nation's filmmakers and indies."
Contact Information
Eilidh Walker
0131 523 0019
07545 402 064
Notes to editors
This initiative is the latest in a series of strategic partnerships between Screen Scotland and broadcasters which aim to develop and strengthen creative and producing talent based in Scotland by increasing the number of companies and projects securing investment from broadcasters:
BBC Scotland - In February 2019, Screen Scotland signed a Memorandum of Understanding with BBC Scotland to build a sustainable television industry in Scotland and to improve the on-air representation and portrayal of Scotland and its people. Since last year some of the initiatives resulting from the MOU have included: BBC Scotland Comedy Pilots which saw three comedy pilots air on BBC Scotland in early 2020 and a new project also involving BBC Three is providing opportunities for Scottish production companies to pitch ideas for a four-part series commission targeted at 16-24 year olds.
Channel 4 - In October 2020, Screen Scotland and Channel 4 Daytime announced a call for proposals from Scottish production companies for a new joint daytime initiative designed to support the development of creative output from independent production companies based in Scotland. In October 2020, Screen Scotland and Channel 4 Factual announced a call for proposals from Scottish production companies to pitch content ideas to Channel 4's Factual team for the coveted 9pm slot.
About Sky
Sky is Europe's leading media and entertainment company and is proud to be part of the Comcast group. Across six countries, we connect our 24 million customers to the best entertainment, sports, news, arts and to our own award-winning original content.
Our technology, including the market leading Sky Q, connects people to everything they love - TV, music, games, online video, fitness and educational content, all in one place, easy. Our streaming service, NOW TV, brings viewers all the enjoyment of Sky with the flexibility of a contract-free service.
Building on the success of Sky Originals like Chernobyl, I Hate Suzie and Brassic, we are doubling our investment in original content by 2024 through Sky Studios. Sky News provides impartial and trustworthy journalism for free, while Sky Arts, the UK's only dedicated free-to-air arts channel, makes the arts accessible for everyone. Our new TV and movie studio, Sky Studios Elstree, is expected to create over 2,000 new jobs and generate an additional £3 billion of production investment in the UK over the first five years alone.
We believe that we can be a force for good in the communities in which we operate. We're committed to being Europe's first net zero carbon entertainment company by 2030. We take pride in our approach to diversity and inclusion: we've been recognised by The Times and Stonewall for our commitment to diversity and we've put in place a new programme to invest £30million across our markets over the next three years to tackle racial injustice.
The National Lottery has raised more than £41 billion for more than 565,000 good causes across the UK since 1994. Thanks to National Lottery players, up to £600 million has been made available to support people, projects and communities throughout the UK during the Coronavirus crisis. https://www.national-lottery.co.uk/
Screen Scotland is the dedicated partnership for screen in Scotland. Sitting within Creative Scotland, it is a partnership with Scottish Enterprise, Highlands and Islands Enterprise, Skills Development Scotland, Scottish Funding Council, working in close collaboration with the sector to ensure its success. With funding from Scottish Government and The National Lottery, Screen Scotland is driving the cultural, social and economic development of all aspects of the sector in Scotland, through enhanced funding, services and support. For further information please visit: screen.scot, and follow us on Twitter @screenscots and @screenscots on Instagram.
Media Contact:
Eilidh Walker
Media Relations and PR Officer-Screen
M: +447545 402 064