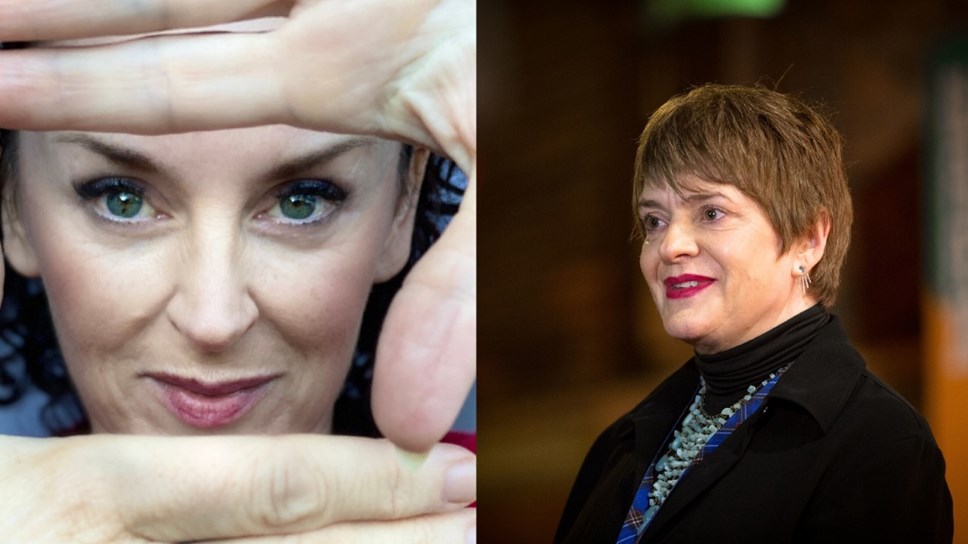 New partnership to nurture Scotland's new and emerging film talent
Today, Tuesday 12 May 2020, Screen Scotland and the BFI have announced Film City Futures and Glasgow Film as the Scottish Partner of BFI NETWORK– the UK-wide programme for new and emerging film talent for 2020-22.
The Scotland-based programme, named Short Circuit, will support new and emerging film writers, directors and producers from across Scotland. Up to 18 short films will be produced and 10 feature length scripts will be developed through the programme over the two years.
The partnership between Film City Futures and Glasgow Film brings together two world-class film institutions based in Scotland, combining the filmmaking expertise at Film City with Glasgow Film's leadership in film exhibition with a strong following from young, diverse audiences.
Outreach and access will sit at the heart of Short Circuit, and the involvement of Film Hub Scotland, based at Glasgow Film but with partners across Scotland, will ensure that it uses wide film networks to offer opportunities to the exciting talent based throughout Scotland.
The £1million programme is supported by The National Lottery through Screen Scotland and BFI NETWORK and will include training, mentoring, production and development advice and networking opportunities. Short Circuit will be part of the UK-wide BFI NETWORK offer, providing support for filmmakers early in their careers through a number of Talent Execs based in key regions and the nations across the country. Short Circuit will be recruiting two talent execs for Scotland in the coming weeks.
Gillian Berrie, Film City Futures said: "Film City Futures is delighted to collaborate with Glasgow Film, Screen Scotland and BFI NETWORK. Our filmmaking network has roots in numerous countries around the world and we look forward to bringing that wealth of experience and passion to this project, supporting new Scottish talent to create material capable of competing at the highest international standard."
Allison Gardner, Glasgow Film said: "Glasgow Film is delighted to partner with Film City Futures on the Film Talent Development programme. We are looking forward to working with a plethora of diverse new talent from across Scotland and helping to bring new voices and stories to the screen. Nurturing talent and creating routes into film careers is central to our work at Glasgow Film, and this new programme will open those opportunities up further."
Isabel Davis, Executive Director at Screen Scotland said: "We're extremely excited by what this opens up for emerging Scottish writers, directors and producers, wherever in the country they are based. Film City provides a cracking environment for up and comers, and a rich pool of expertise from Scotland's generous filmmaking community to draw on.
"Partnering with the team at Glasgow Film will bring their customary energy, a direct connection to audiences, festival expertise and a Scotland-wide approach, creating clearer pathways into the industry for those who have ability but aren't sure how to gain access."
Jessica Loveland, Head of BFI NETWORK said: "We are thrilled to welcome Film City Futures and Glasgow Film as our new BFI NETWORK delivery partner in Scotland. Both organisations have a strong track record in championing exciting new filmmaking voices through professional development support, production and exhibition and we look forward to working with them to nurture and promote the next generation of Scottish filmmaking talent. In due course we are excited that this partnership will see us welcoming a further two Scotland-based Talent Execs to the wider BFI NETWORK team, these roles will be dedicated to scouting, funding and developing diverse new voices from across Scotland."
Applications will open for short films on 18 May, with a deadline of 15 June 2020, guidance can be found at: https://www.shortcircuit.scot/
First feature applications will open shortly but talent can find out more about the opportunities and register now at: https://www.shortcircuit.scot
Contact Information
Eilidh Walker
0131 523 0019
07545 402 064
Notes to editors
Notes to Editors:
About Film City Futures
Film City Futures' mission is to connect people, space and opportunity, enabling access and entry to the screen industries for all. We offer industry focussed programmes that are creative, challenging, and most importantly meet the needs of the screen sector in Scotland, from the engagement of new and emerging talent, to personal and business development. Projects to date include Jump Cut, a talent development initiative for 16-25 year olds; Frontrunners, an Executive Coaching programme for business leaders from television, film and related media businesses; and FOCUS, a business development initiative for screen businesses in Scotland.
Film City Futures is a not for profit organisation based at Film City Glasgow, a screen production facility which houses over 25 companies from across the Scottish production and post-production sector, which was co-founded by one of Scotland's most successful film production companies, Sigma Films.
Film City Futures is the trading name of Jump Cut Crew, a registered Scottish charity with charity number SC031842. https://www.filmcityfutures.com/about-us
About Glasgow Film
Glasgow Film is an educational charity which runs Glasgow Film Theatre (GFT), Scotland's original independent arthouse cinema and the home of film in Glasgow; Glasgow Film Festival (GFF), one of the UK's leading public celebrations of cinema; and Glasgow Youth Film Festival (GYFF), a fast-growing international three-day festival co-curated by teenage film-lovers in the city. Glasgow Film is also the lead organisation for Film Hub Scotland, a membership organisation that supports more than 200 exhibitors across the country.
As one of the UK's leading independent cinemas, GFT plays an important part in the cultural life of Glasgow, screening a wide variety of international cinema, classic films and documentaries, alongside locally made work and material aimed at a range of community groups. GFT also has a strong education programme of outreach, courses and school screenings.
GFT was awarded Accessibility Champion at the SCoD Star Awards 2016 and became the first UK cinema to scoop the Autism Friendly Award 2017. GFF was named Outstanding Festival of the Year at The Herald Scottish Culture Awards 2019. Glasgow Film Theatre is a charity registered in Scotland. No. SC005932. www.glasgowfilm.org
About BFI NETWORK
Made possible through National Lottery funding, BFI NETWORK exists to discover and support talented writers, directors and producers at the start of their careers. We collaborate with film organisations and leading cultural venues across the UK to provide funding for short films, support for the development of first features, as well as a range of professional and creative development programmes.
Find out more and watch supported work: www.bfinetwork.org.uk@bfinetwork
The BFI is the UK's lead organisation for film, television and the moving image. It is a distributor of National Lottery funding and a cultural charity that:
Curates and presents the greatest international public programme of world cinema for audiences; in cinemas, at festivals and online
Cares for the BFI National Archive – the most significant film and television archive in the world
Actively seeks out and supports the next generation of filmmakers
Works with Government and industry to make the UK the most creatively exciting and prosperous place to make film internationally
Founded in 1933, the BFI is a registered charity governed by Royal Charter. The BFI Board of Governors is chaired by Josh Berger CBE.
About Screen Scotland
Screen Scotland is the dedicated partnership for screen in Scotland. Sitting within Creative Scotland, it is a partnership with Scottish Enterprise, Highlands and Islands Enterprise, Skills Development Scotland, Scottish Funding Council, working in close collaboration with the sector to ensure its success. With funding from Scottish Government and The National Lottery, Screen Scotland is driving the cultural, social and economic development of all aspects of the sector in Scotland, through enhanced funding, services and support. For further information please visit: screen.scotand follow @screenscots
Media Contacts:
Eilidh Walker
Media Relations and PR Officer- Screen
M: +447545 402 064