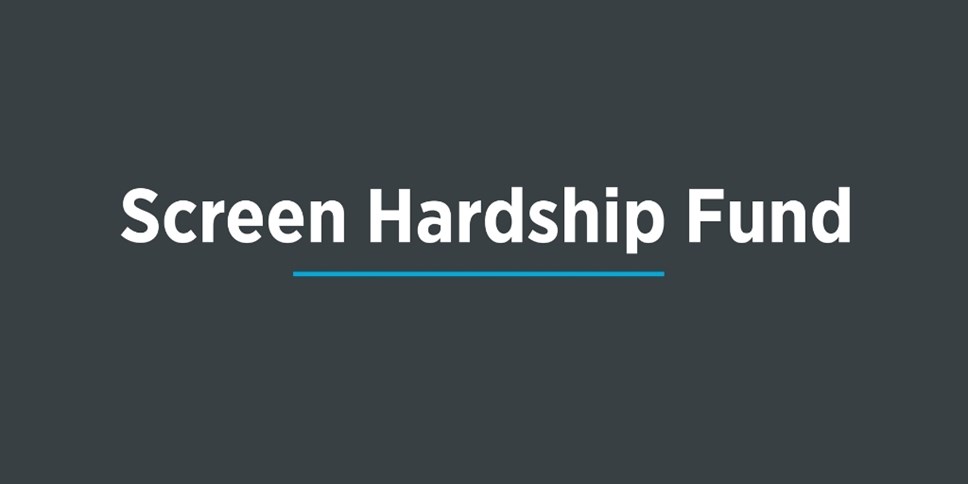 Further Emergency Support Announced for Scotland's Screen Sector Workers
Screen Scotland today announces a new Screen Hardship Fund offering support to those experiencing immediate financial hardship due to the loss of income as a result of the ongoing COVID-19 pandemic.
The £700,000 fund forms part of the Scottish Government's £59million emergency funding package for the culture and heritage sectors. Like the £1.5million Screen Scotland Bursary announced in March as an early response to the Coronavirus, this new Hardship Fund is open to sole traders and PAYE freelancers. The Hardship Fund also offers support to those operating under a personal service company structure, who will be able to access this kind of support for the first time.
Individuals across the following creative areas are eligible to apply for support of up to £2,000 (or more, where access costs are required):
development, production or post-production for film or television - scripted or unscripted, live-action or animation
film exhibition
distribution
talent and skills development
film education
commercial practitioners (such as those who produce commercials, corporate videos or music videos)
professional photographers
Fund guidance including eligibility criteria can be viewed here: http://www.screen.scot/screen-hardship-fund. Applications will go live from tomorrow, Tuesday 22 September at 2pm and will remain open until the available funding has been allocated.
David Smith, Director of Screen at Screen Scotland said: "David Smith, Director of Screen at Screen Scotland said: "Scotland's highly skilled freelance workers have been crucial to the success of Scotland's screen sector. With the support of the Scottish Government we have secured this much needed support for freelancers facing immediate hardship during this time of unprecedented challenge."
Screen Scotland will work with Media and Communications union BECTU to assess requests for the fund.
Paul McManus of BECTU, a sector of Prospect said: "Without our Freelance workforce there is no Screen industry in Scotland and at a time when those Freelances face immense financial challenges it is extremely welcome to see this additional support being delivered by Screen Scotland with the support of the Scottish Government."
Contact Information
Eilidh Walker
0131 523 0019
07545 402 064
Notes to editors
Screen Scotland is the dedicated partnership for screen in Scotland. Sitting within Creative Scotland, it is a partnership with Scottish Enterprise, Highlands and Islands Enterprise, Skills Development Scotland, Scottish Funding Council, working in close collaboration with the sector to ensure its success. With funding from Scottish Government and The National Lottery, Screen Scotland is driving the cultural, social and economic development of all aspects of the sector in Scotland, through enhanced funding, services and support. For further information please visit: screen.scot, and follow us on twitter @screenscots and @screenscots on instagram.
2. BECTU
the Media and Communications Union, is a sector of Prospect, which represents all categories of workers across the Film, TV , Theatre and Events Industries. BECTU works proactively with the Scottish Government, civil servants and Industry partners to deliver a strong , vibrant and sustainable industry across the whole of Scotland. In particular BECTU Vision delivers high quality training and skills development in partnership with Screen Scotland, Scottish Union Learning and Skills Development Scotland. Further information at Bectu.org.uk; @BectuV
3. The National Lottery has raised more than £41 billion for more than 565,000 good causes across the UK since 1994. Thanks to National Lottery players, up to £600 million has been made available to support people, projects and communities throughout the UK during the Coronavirus crisis.
Media Contact:
Eilidh Walker
Media Relations and PR Officer- Screen
M: +447545 402 064