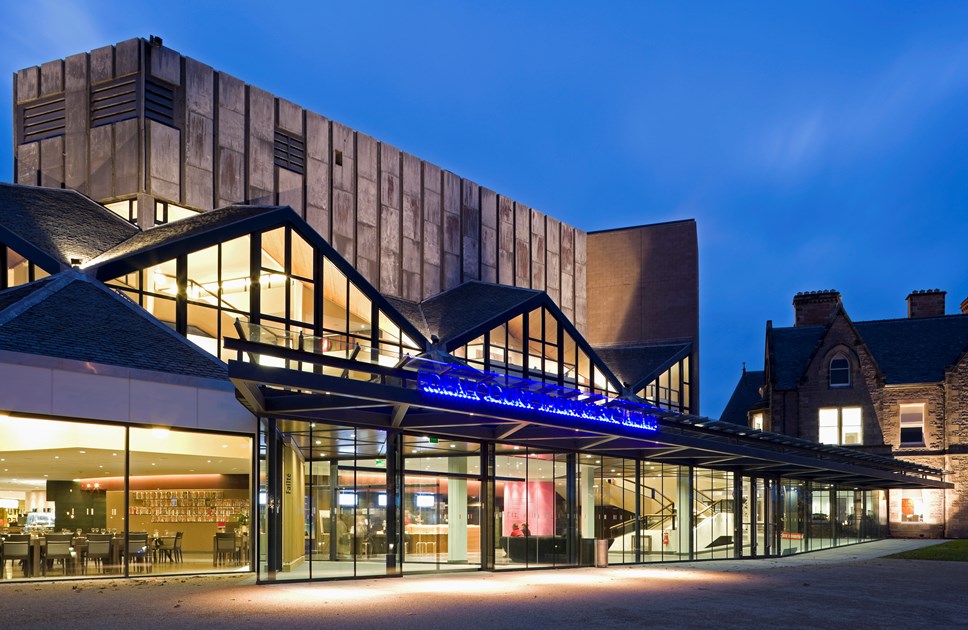 Emergency funding to secure the immediate future of Independent Cinemas in the Highlands
Eden Court Theatre, An Lanntair in Stornoway, mobile cinema operator INDY cinema group and Regional Screen Scotland's mobile cinema, the Screen Machine are among 30 independent cinemas and two touring operators serving communities across Scotland to receive £3.55million from the Scottish Government's Independent Cinema Recovery and Resilience Fund and The National Lottery, through Screen Scotland.
The Fund, which aims to bridge the immediate financial gap faced by independently owned cinemas as a result of COVID-19, will now support these cinemas who can operate in the short-term, within Scottish Government guidelines, and help others towards reopening, when it is safe to do so.
Fiona Hyslop, Cabinet Secretary for Culture said: "We understand the severe impact this pandemic has had on businesses across Scotland, including our independent cinemas which play such an important role in communities across the country.
"We have had to make some really difficult decisions recently that will impact on cinemas which have worked so hard to re-open safely, but we have to put health considerations above everything else and I hope this funding, along with the business support that will be available, will help independent cinemas cope with all the challenges they face.
"Culture is vitally important to all of our lives, and we are determined to do everything within our powers to see the sector through this crisis. This fund is part of the ongoing financial support the Scottish Government is making available to the sector."
Sambrooke Scott, Head of Audience Development at Screen Scotland said: "Independent cinemas have always played a vital role in communities across Scotland, bringing people together to immerse themselves in great film experiences from filmmakers around the world, and around the corner.
"It's been the most challenging of times for these hard-working venues but, with the help of this Scottish Government and National Lottery support, they will continue to open and operate safely as local restrictions allow. By putting stringent measures in place to protect staff and audiences alike they will open where able and bring the magic and escapism of cinema back, which is something we need now more than ever."
Alison Logsdail, Head of Fundraising and Philanthropy at Eden Court Theatre said: "We are hugely grateful for the lifeline the Independent Cinema Recovery Fund has provided to Eden Court. As the main independent cinema for the entire north of Scotland our audiences rely on us to be able to enjoy a diverse programme of world cinema, Scottish and British cinema releases. This cultural experience has been badly missed through the crisis so we are delighted that, thanks to the Fund, we can open our doors again, with all the necessary safety measures in place, to welcome audiences back. The funding will also enable us to extend our partnership with the newly established Cromarty Cinema. This new independent venue had only just opened when the pandemic struck, forcing closure and losing momentum amongst volunteers and supporters. Eden Court will second a member of staff to support the Cromarty Cinema team and help ensure the cinema is prepared to resume operations in this new screening environment. This expanded relationship also helps to avoid redundancy of an Eden Court member of staff."
Elly Fletcher, CEO of An Lanntair said: "An Lanntair runs the only cinema on the Isle of Lewis and Harris, programming everything from big blockbusters to independent arthouse film and a range of festivals and events throughout the year. Our cinema reopened after lockdown in September, screening a diversity of films to a socially-distanced audience each week. Our audiences have told us how important the cinema is to them and this new funding from the Independent Cinema Recovery Fund will be so crucial now to supporting us to continue to offer our film programme throughout this unusual and challenging time. We are delighted that our application has been successful and will now focus wholeheartedly on devising and showing a diverse and exciting film programme for everyone."
Robert Livingston, Director at Regional Screen Scotland said: "The Independent Cinema Recovery Fund is a crucial measure to help to sustain cinemas across Scotland. At Regional Screen Scotland we're very grateful for this support, as it will allow us to begin touring again with the Screen Machine, by compensating for the box office income lost through the need to maintain 2m physical distancing. This means we can bring at least some Christmas cheer to many smaller communities in the Highlands."
Ian Brown, Group CEO and Founder of Edinburgh-based touring cinema operator the INDY Cinema Group said: "This support from Screen Scotland has been crucial in ensuring that INDY Cinema Group and its team are here both now and for the future to support our cinemas and communities across Scotland. Without the support all our work over the past 10 years to assist in building community cinemas, commercial independents and ever growing cinema support services for our industry was at risk of being lost.
Recipients of the Fund are:
| | | |
| --- | --- | --- |
| Organisation | Cinema Name | Funding Amount |
| An Lanntair | An Lanntair (Stornoway) | £44,200 |
| Caledonian Cinemas Limited | Moray Playhouse (Elgin) | £149,583 |
| Campbeltown Community Business | Campbeltown Picture House (Campbeltown) | £65,000 |
| Centre for the Moving Image | Filmhouse (Edinburgh), Belmont Filmhouse (Aberdeen) | £627,849 |
| D&G Council | Robert Burns Centre (Dumfries) | £24,896 |
| Dundee Contemporary Arts | Dundee Contemporary Arts | £143,588 |
| Eden Court Highlands | Eden Court (Inverness) | £158,814 |
| Falkirk Community Trust | Bo'ness Hippodrome (Falkirk) | £51,552 |
| G1 Group | Perth Playhouse | £128,622 |
| Glasgow Film Theatre | Glasgow Film Theatre | £415,171 |
| Granada Cinemas (Edinburgh) Ltd. | Dominion Cinema (Edinburgh) | £224,846 |
| INDY Cinema Group Ltd | INDY Cinema Group (Various) | £216,035 |
| Kino Entertainment Ltd | The Kino Leven, The Kino Glenrothes | £106,313 |
| Lonsdale Cinema | Annan Lonsdale Cinema | £43,842 |
| Macrobert | Macrobert (Stirling) | £111,244 |
| Newton Stewart Cinema | Newton Stewart Cinema (Newton Stewart) | £32,878 |
| NPH Cinema | New Picture House (St Andrews) | £87,723 |
| Oban Phoenix Cinema | Oban Phoenix Cinema (Oban) | £61,818 |
| Pavilion (Galashiels) Ltd | Pavilion (Galashiels) | £207,362 |
| Premier Leisure | Premier Leisure (Saltcoats) | £71,259 |
| Regional Screen Scotland | Screen Machine (Various) | £24,521 |
| Shetland Arts Development Agency | Mareel (Lerwick) | £40,860 |
| The Birks Cinema Trust Ltd | The Birks Cinema (Aberfeldy) | £68,500 |
| The Pickaquoy Centre Trust | The Phoenix Cinema (Kirkwall) | £21,244 |
| The Tower Digital Art Centre | The Tower Digital Arts Centre (Helensburgh) | £81,328 |
| Universal Sounds (Arbroath) Limited | Bathgate Cinema, Alloa Cinema, Arbroath Cinema | £96,875 |
| West Coast Cinemas LLP | Studio Cinema (Dunoon), Waterfront Cinema (Greenock) | £244,441 |
Updates on all emergency funds are being published regularly on this website and publicised through media and social media communications.
Contact Information
Eilidh Walker
0131 523 0019
07545 402 064
Notes to editors
Eligibility criteria and application guidelines for the £3.5million Independent Cinema Recovery and Resilience Fund were published on Monday 14 September with a deadline of Monday 5 October.
There were 27 applications with an ask of £3.55million on the £3.5million Fund therefore £50K of National Lottery funds through the Screen Scotland Audience Development Fund were added to the fund.
The Independent Cinema Recovery and Resilience Fund is one of a series of emergency funds from the Scottish Government and The National Lottery being delivered by Screen Scotland, to help mitigate the immediate impacts of COVID-19 on Scotland's film and tv sector:
£1.5million National Lottery funding through Screen Scotland's Bridging Bursary which opened to applications from Fri 27 Mar to Wed 20 May reached 681 screen sector freelancers.
Two Single Project Development Funding Routes across film and TV has provided £1million for the development of new work ready to go into production in line with COVID-19 industry guidance.
£700K Screen element of the Scottish Government's Hardship Fund for Creative Freelancers opened for applications from Tues 22 Sept to Fri 2 Oct. Assessments are taking place and decisions being communicated to applicants.
The Scottish Government's £12.5million Performing Arts Venues Relief Fund has reached venues including those offering cinema provision: An Lanntair (Stornoway), Eden Court Theatre (Inverness) and the Macrobert Arts Centre (Stirling).
The Hardship Fund for Creative Freelancers and Performing Arts Venues Relief Fund form part of the Scottish Government's £59million emergency funding for Culture and Heritage announced on Friday 28 August from the £97million in UK Government consequentials for the culture and heritage sectors.
More information about COVID-19 funding and resources can be accessed via FindBusinessSupport.gov.scot, and through Screen Scotland's Resource Directory for COVID-19.
The National Lottery has raised more than £41 billion for more than 565,000 good causes across the UK since 1994. Thanks to National Lottery players, up to £600 million has been made available to support people, projects and communities throughout the UK during the Coronavirus crisis. https://www.national-lottery.co.uk/
Screen Scotland is the dedicated partnership for screen in Scotland. Sitting within Creative Scotland, it is a partnership with Scottish Enterprise, Highlands and Islands Enterprise, Skills Development Scotland, Scottish Funding Council, working in close collaboration with the sector to ensure its success. With funding from Scottish Government and The National Lottery, Screen Scotland is driving the cultural, social and economic development of all aspects of the sector in Scotland, through enhanced funding, services and support. For further information please visit: screen.scot, and follow us on Twitter @screenscots and @screenscots on Instagram.
Media Contact:
Eilidh Walker
Media Relations and PR Officer-Screen
M: +447545 402 064