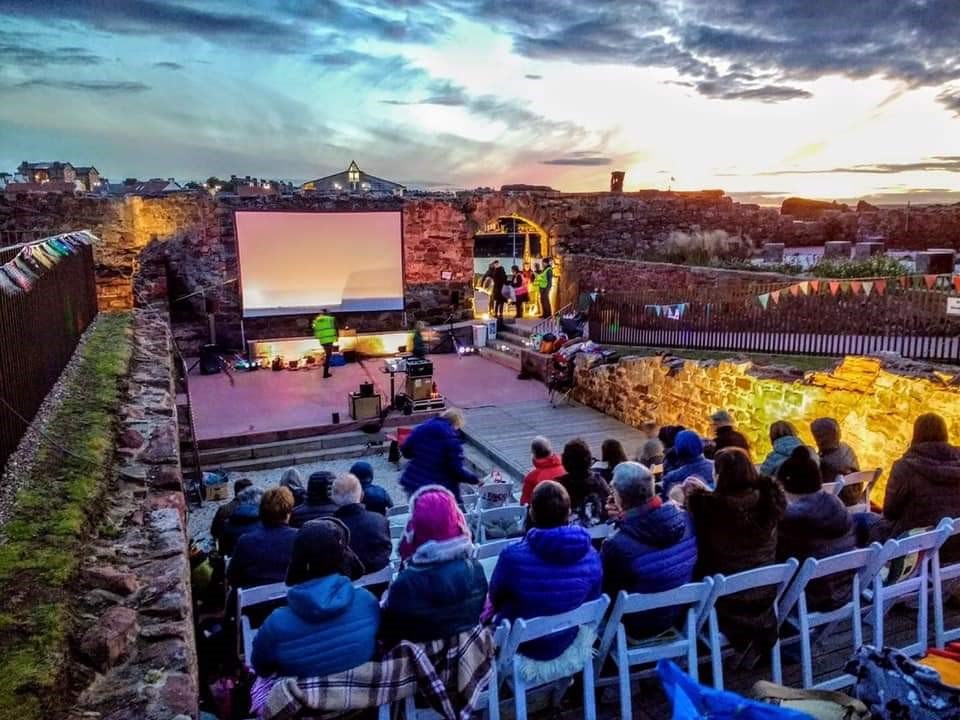 Community Cinemas in Edinburgh and the Lothians Get Set To Roll Into Action
Community groups in Edinburgh and the Lothians are among the 24 projects from the Orkney Isles to Galashiels, to have received support from The National Lottery through Screen Scotland's Cinema Equipment Fund towards the purchase of new equipment to host accessible community cinema across Scotland.
In line with the Scottish Government's latest Covid-19 guidance, all 24 projects can now begin plans to get up and running and welcoming audiences, as soon as they're able, from Wednesday 15 July.
East Lothian's Pix in the Stix community group are using new funds to secure the latest cinema equipment and expand their cinema programme for children, families and communities across the local area.
On receiving funding, the group said: "Pix in the Stix, our magical Community Cinema has always strived to be inclusive and innovative, often on a budget. This award will allow us to enhance our loyal audience's experience of film, with new and upgraded equipment. We hope to entice newcomers, to experience the enjoyment and happiness our Community Cinema offers, showing a wide variety of films to both children, families and adults.
"We truly believe that Community Cinema is a great way to strengthen communities and build strong relationships as part of our ever-changing community. We are knocked out by this opportunity to be able to continue and pass on this love of Community Cinema."
Cousland Village Hall Association's Film Club in Midlothian, are set to replace their old cinema screen to complement their advanced digital projection and sound system, to enable the club to deliver a quality cinema experience; "the big cinema experience in the wee village hall". The club hosts monthly film nights, with films being selected from different genres, periods and cultures. The film club provides another opportunity to bring together the local community, with membership of the club ranging from 25-95 year olds.
Cousland Village Hall Association said: "The film club are delighted to receive this grant to purchase a projection screen of the correct dimension which will complement our digital projection and sound system. The film club has been in operation for three years and brings together a broad spectrum of villagers to meet socially and enjoy a diverse programme of films."
Edinburgh-based event cinema organisation CinemaAttic have received funding to purchase their own projector, sound system and screen to ensure the best possible cinema experience at their screenings which aim to take cinema out of the usual setting. Their screenings have included libraries, pubs and recovered spaces alongside their monthly screenings at Old St Paul's Church Hall.
Commenting CinemaAttic said: "CinemaAttic is delighted to be able to upgrade its cinema equipment. We aim at bringing the best possible cinema experience to places that don't have cinema provision and this will allow us to take it to the next level. We have lined up some screenings in the highlands and Islands and are very much looking forward for the time when is safe to start again with our traveling cinema."
Screen Scotland's Jennifer Armitage said: "This round of awards concludes the year-long programme of capital investment in cultural and community cinemas in Scotland. When we launched the Cinema Equipment Fund last year, we had no idea what 2020 was going to bring but investing in the resilience of Scotland's film exhibition sector is more important than ever. When Scotland's cinemas reopen, they will be able to offer high quality experiences, with varied programmes, and within local communities."
Culture Secretary Fiona Hyslop said: "Cinema is a way of bringing people together, sharing our communities' experience with others and increasing public understanding on a wide range of social issues and historical events.
"Now more than ever, it is important we support cultural organisations in communities across the country. This round of the Cinema Equipment Fund shows how we support and strengthen cinema throughout Scotland with new high-quality equipment."
Contact Information
Eilidh Walker
0131 523 0019
07545 402 064
Notes to editors
Cinema Equipment Fund
Total amount awarded through this round of the Cinema Equipment Fund is: £491,285
Funded projects:
| | | | |
| --- | --- | --- | --- |
| Organisation | Project | Awarded Amount | Local Authority |
| Aboyne Arts and Theatre Development Group | Aboyne Cinema Sound | 15,613.00 | Aberdeen City |
| Atlas Arts | Plural Futures Film Project | 24,962.00 | Highland |
| CinemaAttic | New Cinema Equipment | 7,800.00 | Edinburgh, City of |
| Cinemor77 | Cinemor77 Mobile Cinema Equipment | 14,505.00 | Glasgow City |
| Colintraive Village Hall | Kyles Screen, Community Cinema | 24,845.00 | Argyll & Bute |
| Cousland Village Hall Association | Replacement in-situ film screen | 1,660.00 | Midlothian |
| Dundee Contemporary Arts Ltd | Cinema 2 projector replacement | 21,099.00 | Dundee City |
| East Ayrshire Leisure Trust | Cumnock Town Hall Community Cinema | 12,612.00 | East Ayrshire |
| East Dunbartonshire Council | Spectrum Film Club | 6,448.00 | East Dunbartonshire |
| Eden Court | Projection Upgrade 2020 | 42,121.00 | Highland |
| Forgandenny Village Hall | Community cinema – audio loop | 925.00 | Perth & Kinross |
| Glasgow Film | GFT Technical Replacement Project Phase 2 | 30,171.00 | Glasgow City |
| New Picture House (St Andrews) Ltd | Projection Upgrade | 25,000.00 | Fife |
| North East Arts Touring | Mobile Screening Equipment | 22,438.00 | Aberdeenshire |
| Oban Phoenix Cinema | Oban Phoenix Theatre (Untitled) | 22,436.00 | Argyll & Bute |
| Pavilion (Galashiels) Ltd | Audio Upgrade 2020 | 67,951.00 | Scottish Borders |
| Pix in the Stix Community Cinema | NEW AND REPLACEMENT CINEMA EQUIPMENT | 8,818.00 | East Lothian |
| Screen Argyll Limited | Screen Argyll Network Equipment | 12,190.00 | Argyll & Bute |
| Strathearn Artspace | Strathearn Arts New Cinema Equipment | 24,570.00 | Perth & Kinross |
| The Barn | Upgrading to DCI | 25,000.00 | Aberdeenshire |
| The Iris Arts Ayr CIC | The Iris Mobile Cinema | 10,223.00 | South Ayrshire |
| Universal Hall | Dolby surround sound equipment | 7,739.00 | Moray |
| Universal Sounds (Arbroath) Limited | Equipment Upgrade – DCI Compliant Projector and Associated Sound Equipment | 52,350.00 | Angus |
| West Side Cinema | West Side Cinema Upgrade | 9,809.00 | Orkney Islands |
UK Cinema Association Guidance
The UK Cinema Association has published guidance to support cinemas to reopen safely. This guidance can be found here: https://www.cinemauk.org.uk/coronavirus-covid-19/guidance-for-cinemas/
3. Scottish Government Guidance
According to Scottish Government guidance cinemas in Scotland will be able to reopen from 15th July, however these are indicative dates with confirmation subject to relevant evidence reviews and phase criteria being met. Full details can be found here: https://www.gov.scot/publications/coronavirus-covid-19-framework-decision-making-scotlands-route-map-through-out-crisis-phase-2-update/
4. Screen Scotland is the dedicated partnership for screen in Scotland. Sitting within Creative Scotland, it is a partnership with Scottish Enterprise, Highlands and Islands Enterprise, Skills Development Scotland, Scottish Funding Council, working in close collaboration with the sector to ensure its success. With funding from Scottish Government and The National Lottery, Screen Scotland is driving the cultural, social and economic development of all aspects of the sector in Scotland, through enhanced funding, services and support. For further information please visit: screen.scot, and follow us on twitter @screenscots and @screenscots on instagram.
5. The National Lottery
The National Lottery has raised more than £41 billion for more than 565,000 good causes across the UK since 1994. Thanks to National Lottery players, up to £600 million has been made available to support people, projects and communities throughout the UK during the Coronavirus crisis.
Media Contacts:
Eilidh Walker
Media Relations and PR Officer- Screen
M: +447545 402 064
Eilidh.Walker@creativescotland.com