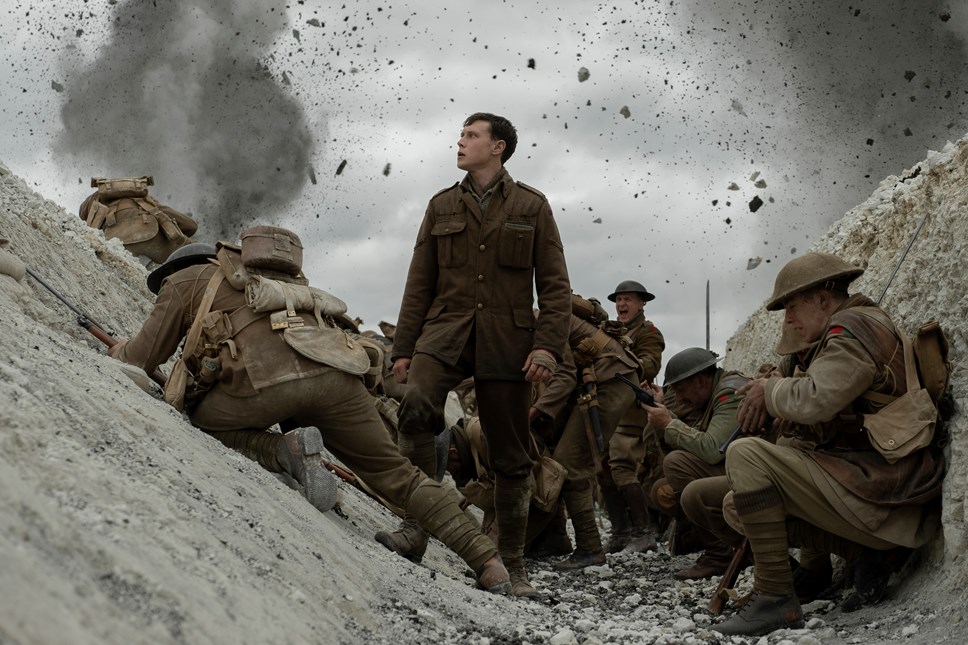 Award-winning British Film and High-End TV production give Scottish trainees their start in the industry
Trainees in the film and TV industry in Scotland have told of how they had the opportunity to learn from leading film and TV industry professionals on set of Golden Globe Award-winning World War I drama, 1917, and Channel 4's crime thriller drama, Deadwater Fell, produced by Kudos (part of EndemolShine UK), while both shot on location in Scotland.
The Productions were supported by Screen Scotland's Production Growth Fund to support filming in Scotland and employment of Scottish crew.
1917, directed and produced by Academy Award-winner Sam Mendes (Skyfall, American Beauty) and co-written by Scottish writer Krysty Wilson-Cairns (Penny Dreadful) and Mendes, shot on location at Govan Docks in Glasgow last summer.
The production employed three trainees during their Scottish shoot in both the Set Decoration and Sound departments.
Andrew McLelland, Camera Trainee said: "The chance to work on "1917 was a dream opportunity, it was my first professional on set experience. Getting such a major opportunity so early on meant that I learnt a great deal, there was plenty of time to go through every piece of equipment in detail and I came away from the experience with over ten pages of notes and newfound confidence and knowledge."
1917 stars George MacKay (Pride, Sunshine on Leith), Dean-Charles Chapman (Game of Thrones, Into the Badlands), Mark Strong (Temple, Kingsman: The Golden Circle), Andrew Scott (Fleabag, Pride), Scottish actor Richard Madden (Bodyguard, Cinderella), Colin Firth (The King's Speech, The Railway Man) and Benedict Cumberbatch (The Imitation Game, Doctor Strange). The film recently won two Golden Globes; Best Motion Picture-Drama and Best Director-Motion Picture and was nominated for nine BAFTA awards including Best Film and Outstanding British Film.
The film will be released in the UK on 10 January.
Shelly Strong, EVP Physical Production at Amblin Partners said: "We are extremely appreciative of the Screen Scotland team for their indispensable assistance in our filming of 1917 in Glasgow last summer. Thanks to their Production Growth Fund, who along with the on-set trainees made crucial contributions to helping bring this production to audiences across the globe."
Meanwhile Channel 4's four-part drama Deadwater Fell was produced by Kudos and stars David Tennant (Broadchurch, Good Omens), Cush Jumbo (The Good Fight, The Good Wife), Anna Madeley (Patrick Melrose, The Crown) and Matthew McNulty (Versailles and Cleaning Up).
The mini-series, shot entirely on location in Scotland including Glasgow, Dunlop, East Ayrshire and the surrounding areas was written by Daisy Coulam (Grantchester) and directed by Lynsey Miller (The Boy with the Top Knot, Eve).
During filming, Deadwater Fell employed trainees across six departments.
Emma Maclachlan, Camera Trainee on Deadwater Fell said: "Working as a Camera Trainee on Deadwater Fell was an amazing experience for me. I learnt a lot about the Scottish film industry and had the opportunity to work with a very talented and welcoming crew. It was great to be able to work in so many different locations around Glasgow and it'll be exciting to see the beautiful locations we have to offer on-screen. Filming on the beach was definitely my favourite location although carrying heavy equipment on sand is not an easy task!"
The series begins when a seemingly perfect and happy family is murdered by someone they know and trust, the small Scottish community they call home becomes riven with doubt and suspicion as those closest to the family begin to question everything they thought they knew about their friends...
Emma Kingsman-Lloyd, Executive Producer, Kudos said: "We were so pleased to find such wonderful emerging talent in Scotland. Kudos is committed to providing opportunities for new crew members wherever possible and we were thrilled to work with such motivated, dedicated and creative trainees."
Deadwater Fell begins on Channel 4 on Friday 10 January at 9pm. It is distributed by Endemol Shine International.
Culture Secretary Fiona Hyslop said: "1917 and Deadwater Fell are more excellent examples of big and small-screen productions choosing Scotland for its great locations, crew and talent.
"I'm pleased that, with the support of Screen Scotland, trainees had the opportunity to learn from professionals on set, providing valuable knowledge and experience that will help them as they pursue careers in the industry."
Isabel Davis, Executive Director at Screen Scotland said: "Sam Mendes' awards frontrunner 1917 and Kudos' chilling new drama Deadwater Fell provided valuable opportunities for Scotland's talented and experienced crew and for new entrants to learn on the job. It continues to be an exciting time for film and TV production in Scotland with our crew, writing, directing and acting talent working across every genre from period drama to modern crime thriller."
Contact Information
Eilidh Walker
0131 523 0019
07545 402 064
Notes to editors
Screen Scotland Funding:
1917: £100,000 Production Growth Fund
Deadwater Fell: £325,000 Production Growth Fund
Kudos
Kudos is one of the world's leading television production companies. We are a team of individuals – passionate programme makers who specialise in scripted content. We work with the best global talent to create, develop and produce popular, innovative, award- winning drama and comedy series. Recent work includes Responsible Child (BBC2), Deep Water (ITV), Humans (Channel 4 / AMC), Tin Star (Sky Atlantic / Amazon), Grantchester (ITV), The Tunnel (Sky Atlantic), The Boy with the Topknot (BBC Two), Gunpowder (BBC One), Man in an Orange Shirt (BBC Two), Troy: Fall of a City (a co-production with Wild Mercury for BBC One / Netflix), Broadchurch (ITV) and Apple Tree Yard (BBC One). We are also in production on a fifth series of Grantchester, Code 404 (Sky), Two Weeks To Live (Sky), SAS: Rogue Heroes (BBC One) and a US version of hit series Utopia for Amazon. Kudos is part of Endemol Shine Group.
Screen Scotland is the dedicated partnership for screen in Scotland. With funding from Scottish Government and the National Lottery, Screen Scotland is driving the cultural, social and economic development of all aspects of the sector in Scotland, through enhanced funding, services and support. For information about our new and enhanced funds for film and TV, and everything you need to know about filming in Scotland, please visit: www.screen.scot @screenscots