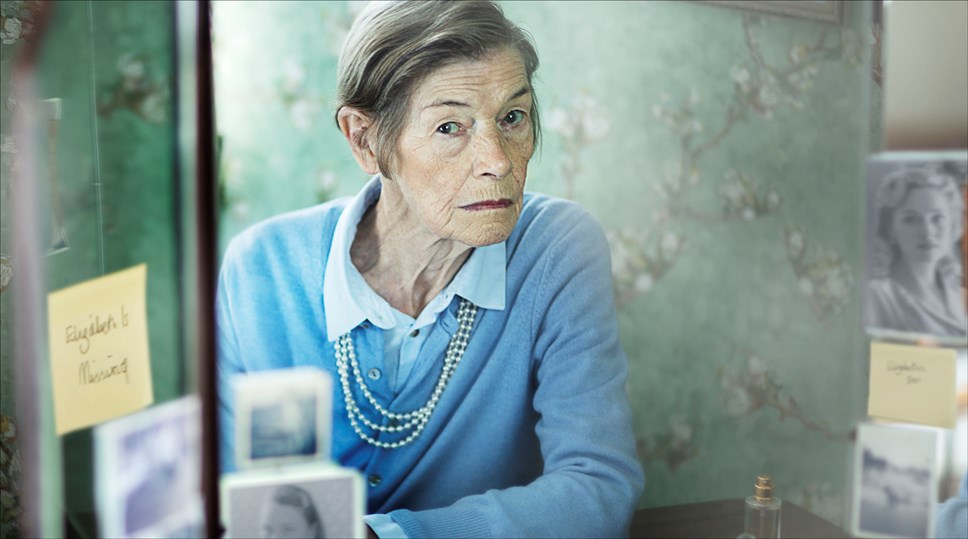 Adaptation of Bestselling Novel Elizabeth is Missing helps trainees get their start in Scotland's TV industry
Elizabeth is Missing starring double Academy award-winning actress Glenda Jackson (Women in Love, A Touch of Class) in her first on-screen role for over 25 years will feature scenes shot on location in Glasgow when it airs on BBC One on Sunday at 9pm.
The feature-length TV film produced by Glasgow-based STV Productions (The Victim, Taggart) was supported by Screen Scotland's Broadcast Content Fund to enable the production to shoot on location in Scotland and employ trainees across costume, locations, production, grip, and make-up roles.
The costume, locations and production trainees were recruited through Screen Academy Scotland's Screen NETs programme which provide entry-level traineeships on High-End TV drama and film productions filming in Scotland.
Erin McNeill, Production Trainee said: "Elizabeth is Missing gave me a great opportunity to learn about Production, working alongside an excellent team. It actually opened the door to my first job in the industry on completion of the Screen NETS programme."
Written by Scottish screenwriter Andrea Gibb (Swallows and Amazons, Dear Frankie) and directed by Aisling Walsh (Maudie, Room at the Top), Elizabeth is Missing also stars Sophie Rundle (Gentleman Jack, Peaky Blinders), Mark Stanley (Run, Game of Thrones) and Maggie Steed (Chewing Gum, Paddington 2).
Elizabeth is Missing is adapted from Emma Healey's bestselling 2014 novel and stars Jackson as Maud – a woman living with dementia who must attempt to piece together what has happened to her best friend Elizabeth.
After Elizabeth goes missing, Maud is convinced that something terrible has happened, and she sets out to solve the mystery, before dementia erases the clues. As Maud becomes more forgetful, the distinctions between past and present begin to blur — her search unearths an even darker mystery about the decades old unsolved disappearance of her own sister Sukey.
Sarah Brown, Creative Director of Drama at STV Productions said:
"As Scottish producers, we couldn't be happier to have had the chance to make our film Elizabeth is Missing here. Thanks to the support of Creative Scotland, we were able to take advantage of the brilliant established crew working in Scotland, but also play a part in bringing on the next generation of behind the camera talent".
Mark Thomas from Screen Scotland said: "Elizabeth is Missing has provided a fantastic opportunity for Scottish trainees to gain vital experience on a High-End TV drama and learn skills that will set them up for further roles in the film and TV industry and help them build a sustainable career. Elizabeth is Missing is as gripping and deftly told as STV Productions' previous work The Victim and the hugely experienced team of Sarah Brown, Andrea Gibb and Aisling Walsh, alongside a stellar cast, have done a fantastic job of bringing this incredibly moving book to life."
Contact Information
Eilidh Walker
0131 523 0019
07545 402 064
Notes to editors
Screen Scotland Funding: £300,000 Broadcast Content Fund
STV Productions
STV Productions is one of the UK's leading content businesses and is Scotland's biggest indie. Led by award-winning executive David Mortimer, the company has an impressive track-record of success across drama, entertainment and factual, with commissions spanning BBC One and Two, ITV, Channel 4, BBC Scotland, VH1/MTV and Sky One.
Productions include 20 series of Antiques Road Trip and nine series of sister programme, Celebrity Antiques Road Trip for BBC; six series of Catchphrase and four of Celebrity Catchphrase for ITV; and Sex Tape, a four-part relationship series for Channel 4. Critically acclaimed thriller The Victim for BBC One was watched by more than 7.2m. Adding to their impressive drama slate, the drama team has recently delivered Elizabeth is Missing, featuring two-time Academy Award winner Glenda Jackson, for BBC One. Factual commissions include Britain's Polar Bear Cub for Channel 4, two series of Prison: First & Last 24 Hours for Sky One, Ross Kemp Behind Bars – Inside Barlinnie for ITV and Fire in the Night, an award-winning feature documentary to mark the 25th anniversary of the Piper Alpha disaster.
STV recently acquired a majority stake in award-winning unscripted producer Primal Media, with recent productions including documentaries Home Free for Channel 4 and Jerk for BBC Three.
Screen Scotland is the dedicated partnership for screen in Scotland. With funding from Scottish Government and the National Lottery, Screen Scotland is driving the cultural, social and economic development of all aspects of the sector in Scotland, through enhanced funding, services and support. For information about our new and enhanced funds for film and TV, and everything you need to know about filming in Scotland, please visit: www.screen.scot @screenscots
Media Contact:
Eilidh Walker
Media Relations and PR Officer- Screen
T: 0131 523 0019